OpenSea is an open marketplace that anyone can join, where people buy and sell digital goods. The platform has been designed to be easy-to-use and intuitive, so it's suitable for both experienced and novice sellers.
However, no matter how easy the interface is, a guide to using the platform always comes in handy.
So, we have come up with his guide to help you in using OpenSea. learn how to create an OpenSea account, create an NFT, sell an NFT, and many other things in this post.
How Do I Set Up My OpenSea Account?
Steps to Set Up OpenSea Account:
Step 1: Connect OpenSea to the Wallet
Let's get started by connecting your wallet to OpenSea, editing your profile, and communicating with others in the area.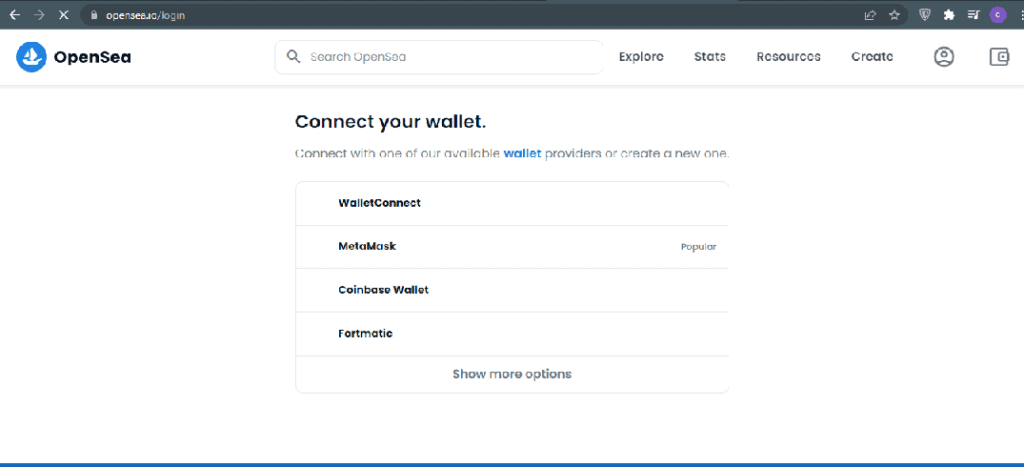 When you get to OpenSea.io, pick "Profile" from the top-right profile icon.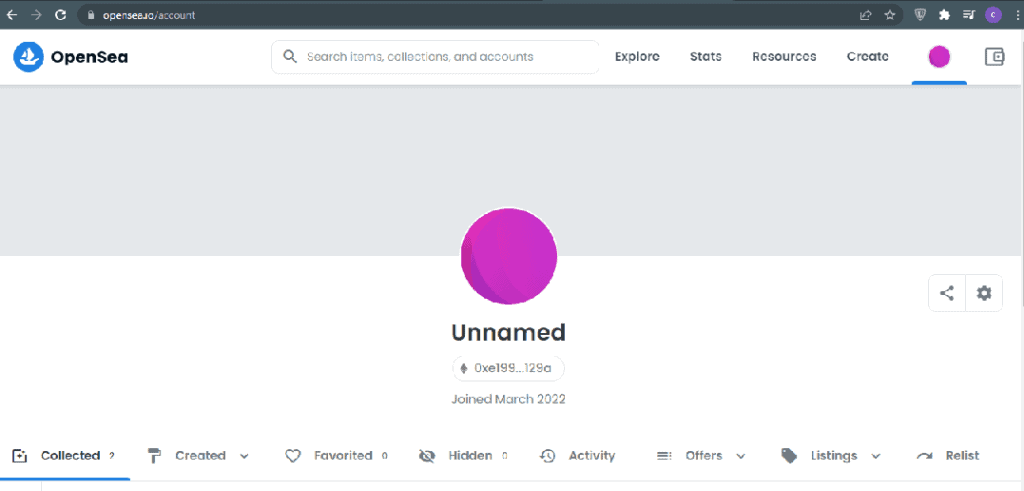 Step 2: Confirm the Wallet
After that, you'll be asked to link your wallet.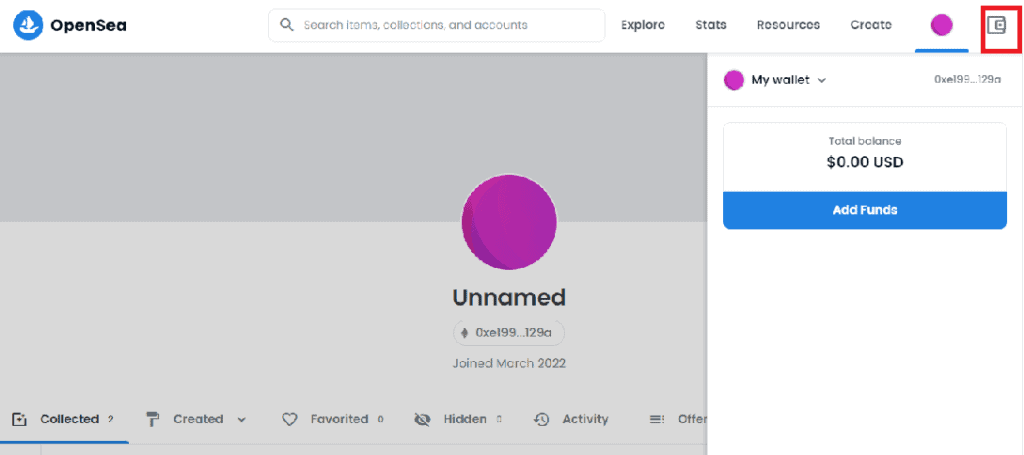 You'll go through a series of questions before arriving at the connection screen.
You're almost done when you notice "Connecting…" OpenSea to your wallet.
Step 3: Customize the Account
Your account will default to "Unnamed", showing only your wallet address below.
To personalize your account, select the gear icon on the right side of the screen.
You will receive an extra security prompt, select "Sign" and you can begin updating your profile
Step 4: Add Name to Profile
Now you can customize your profile, including username, bio, and email address.

Your profile photo and cover banner can be customized on your account as well.
Step 5: Final Steps
Now you're ready to go! If you're having problems seeing your products, double-check that your wallet is linked properly.
OpenSea is a window into your wallet address that displays all of the interesting NFTs that are stored inside.
How Do I Start Selling on OpenSea?
It should be rather simple to sell your NFT. That is why the OpenSea team designed their NFT sales process to be as simple as possible.
To sell an NFT on OpenSea, go through the listed steps below.
Step 1: Go to Menu >> Account >> Profile, where you may pick which of your NFTs you wish to sell.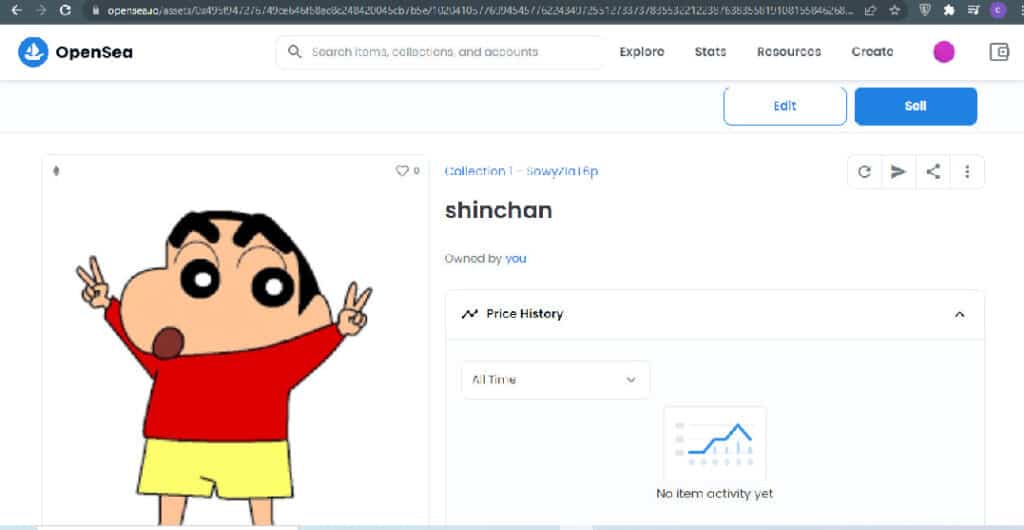 Step 2: Tap "Sell" after selecting your NFT.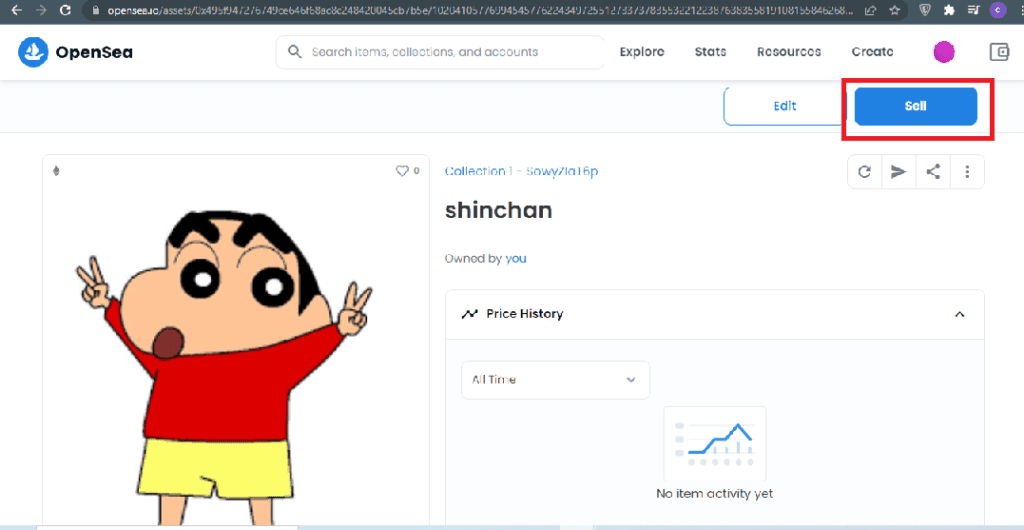 You'll be able to specify your NFT's pricing and schedule your listing this way.
When you try to sell an NFT on OpenSea, you'll discover that you have four distinct sorts of listing choices to pick from: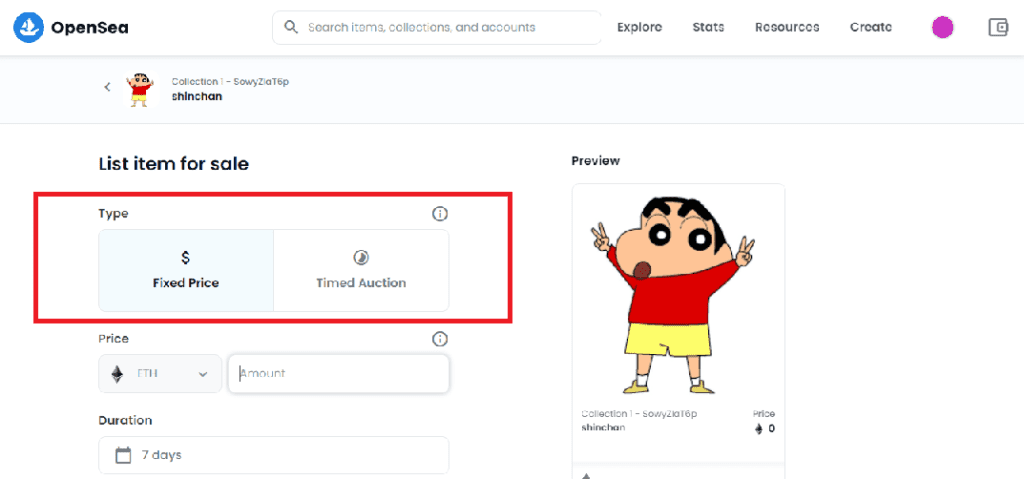 The cost is fixed (Buy Now)
Your NFT will be listed for sale at a Buy Now price if you choose the fixed price listing option. This listing method is simple and effective if the NFT you're selling has a predetermined price.
Public Auction (Starting price, or reserve price)
The Auction listing option is similar to a traditional English auction. You just set a minimum price for your NFT and then enable people to bid on it. You also have the option of setting a reserve price and accepting any bid that comes your way.
Make a bundle (list multiple NFTs as one bundle)
If you want to sell more than one NFT to the same buyer, bundling your NFTs is an excellent option. When you bundle many NFTs, you simply have to make one transaction rather than multiple transactions, which saves you money on gas.
When it comes to costs, OpenSea has made it quite easy for users. Every transaction costs them 2.5 percent of the total. There's nothing else. Aside from that, NFTs can be created for free at any time.
You can also specify a royalty of up to 10% like the original inventor. That is, every time your NFT sells on the marketplace, you may profit.
What are the OpenSea fees?
There is no fee to list your item though you'll be charged 2.5% on every item sold on OpenSea. When trading between cryptocurrencies, there is a 0.5% fee per transaction.
For other asset classes, there are variable fees based on the market price of the assets traded.
Can I deposit funds into my OpenSea Account?
Yes, you can do it. To deposit funds to your account, you have to go to the wallet option. After that, you have to click on the blue "add funds" option. Then, according to your geographic location, you are enabled to add ETH using the "buy with card" option.
How do I sell on OpenSea for free?
The process to sell your NFT on OpenSea is easy. But if it is the first time you are selling something on the platform, you will have to pay an initialization fee. If this is the second time, no fees will be needed.
So, simply said, there is no way you can skip the account initialization and approval fee.
However, here is a list of the process to sell NFTs on OpenSea:
1. Create an ETH Wallet and link it to OpenSea
To begin, you must first link an Ethereum wallet to OpenSea. It doesn't have to be full; you don't have to possess any bitcoin. If you don't already have a wallet, MetaMask or Coinbase Wallet are also good options. Both are effective, popular, and simple to use.
2. Make a collection in OpenSea
On OpeanSea, NFTs are made within a collection, therefore you'll need to make one first. To do so, go to the upper right corner of your screen and click your profile symbol, then My Collections, and then Create.
3. Get the OpenSea Collection Up
Begin by creating your first OpenSea collection. You may now name your collection, change the URL, and add a description of your choosing, as well as upload photos (including logo, featured, and banner).
4. Select the Proper Blockchain
After that, choose the right blockchain for your collection. The Ethereum Blockchain and the Polygon blockchain have opposing viewpoints. Choose the Polygon option if you don't want to pay any gas expenses.
5. Start producing NFTs
You can start minting NFTs now that you've built up a collection. Simply select your collection and then Add Items.
You may now mint a piece of art (image, song, etc.) as an NFT by uploading it. You may also select the number of copies you wish to print.
If you have stats or unlock material that you get when you buy the NFT, you may indicate those on this page as well.
Conclusion
These are the steps following which you can use the OpenSea Platform easily. There's nothing complicated in the OpenSea Platform.
Even if you are a fresher, you can start with this platform. Additionally, all the steps are clearly mentioned for your reference. Hopefully, the article was useful for you.